Wednesday, January 11, 2017

Greetings for 2017 - thanks to everyone who come to the fantastic Solidarity Social on the 17th December. Collectively we raised over £800 - thanks to Caro C for organising. Here's a photo (thanks Pari!), there are more on the RISE FB page.
Welcome to my new site!

Thursday, December 08, 2016

long overdue....hope you like it....if you find something that doesn't work, please let me know
RISE! - epic songs for epic times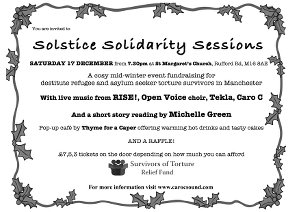 Thursday, December 08, 2016

Our next gig is on 17th December - details on the flyer