PROJECTS AND COMMISSIONS
Some examples of recent commissions are featured below.
For my work with Musicians without Borders click here: Stone Flowers
and for virtual migrants go to www.virtualmigrants.com and www.youtube.com/virtualmigrants
For more information or to enquire about commissions and projects, email Aidan
For more examples of project work, look at the archives.

'Break Free' by Other Ways Of Telling (2012 - 2013)
I was lead artist and Director for 'Break Free', a collaborative performance created over three months by 'Other Ways Of Telling'; a company set up by Collective Encounters and St Helens Council to explore issues of mental illness, stigma, and the struggle for wellbeing. Using a variety of workshop and writing techniques, the company have created a multi-media performance in three parts: Break Down, Break Through and Break Out. The poetry, writing and songs were developed both individually and collectively in the course of the workshops. These were then developed into a script by the company, working with me, and performance poet Simon Murray.
To hear a brief excerpt click here:The Break Down Song (rehearsal, 1.6 Mb)

'Past, Present, Future' and 'Sandygate Squared' (2011 - 2012)
a site specific performance for which I was composer and musical director, involving three primary schools, and two adult choirs (nearly 100 people) for Burnley Youth Theatre. It was a musical and dramatic performance that looked at the history and future of the Weavers' Triangle Heritage site. A film version was commissioned by the borough council, and made on location by Seal Films. It involved all the original participants, and used traditional and specially composed songs.
To hear a brief excerpt click here:One Day At A Time (2 Mb)

'Growing Hearts And Minds' (2011)
a residency with B-Arts in Stoke-on-Trent, which created a songs and a series of performances with a variety of participants looking at the connection between mental health and the environment. This resulted in a cycle of songs called 'Down To The Roots' created and performed by the 'Northwood Park Scratch Band', who came together during the course of the residency - we became the 'house band' for a number of site specific performances including 'Harvest' (pictured). These songs were recorded and are available on CD with a book of the whole project. The project has a legacy website here.
To hear a brief excerpt click here:The City Dissolves (2.1Mb)
'Born Into A Different Age' (2010)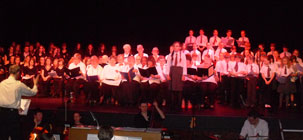 A commissioned piece of music (based on workshops) exploring the connections between young and old people for Staffordshire County Council Arts Service and Age Concern Stafford and District (performed with an intergenerational choir of almost 100 people at Stafford Gatehouse Theatre in May 2010). The full score, and reductions suitable for schools, in PDF format are available on request by email.
To hear a brief excerpt click here: Born Into A Different Age (1.74Mb)
Re-Membering (2010)


Musician/Facilitator for a performance, new music and writing project lead by Artists In Mind, Huddersfield. Led by writer Simon Murray, participants produced a book and an integrated performance of poetry and music as part of Huddersfield Literature Festival 2010.
To hear a brief excerpt click here: Re-Membering (1.7Mb)



The Big Weave (2009)
Lead Musician for a multi-disciplinary and multimedia performance project, with Dancer Gerry Turvey and Video Maker Will Aldersley, developed by Hoot as part of their creative professional development programme, with mental health service users and emerging artists

To hear a brief excerpt click here: The Big Weave (1.2Mb)

Thinking Independently (2009)
Lead Artist, with filmmaker Bryan Dixon – and the Working Class Movement Library, Salford.. The production of three films based upon the writings of the radical Thomas Paine. Workshops took place at three schools/colleges across Greater Manchester and included the facilitation ofa visit to the Working Class Movement Library, where pupils carried out their own research. The resulting films addressing the relevance of Paine's thinking to young people today varied widely in style from factual/documentary to song with accompanying video, to satirical comedy spoof. The films can be viewed in context at www.wcml.org.uk/contents/activists/thomas-paine/

Marshall's Arm Sculpture Trail Opening Event (2009)
Composer for an outdoor promenade music performance celebrating the opening of this trail (with gates and sculptures by Tracey Cartledge) .Commissioned by Action Weaver Valley, involving year 5 Primary School Students from Hartford Manor School and professional musicians Caro Churchill, Ben Isaacs, Jen Hewitt and Jess Baker.

To hear a brief excerpt click here: Marshall's Arm Performance (1.9Mb)
The Stalybridge Lockgates Sundial and Time Capsule (2008)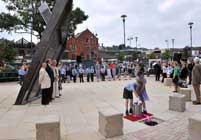 Composer for this specially commissioned site-specific music and soundscape, which marked the launch of the sculpture and the dedication of the time capsule. It required the coordination of a prerecorded piece of music with a live brass band (on a canal boat), bell-ringing and a school performance.

To hear a brief excerpt click here: Time Piece (1.3Mb)
RIDGE HILL - A Peoples' History (2008)

Produced with artist Sophie Mackreth. An oral history project that looks at the heritage of Ridge Hill, an estate just north of the town of Stalybridge – this is now available as an interactive DVD and book. The people of the estate tell the story of the area in their own words, and both book and DVD link in with a local heritage trail. The area is famous for, amongst other things, the Stalybridge Old Band (founded in 1809), and a number of radical dialect poets such as Samuel Laycock and Sam Hill. It also has (probably) the oldest Working Men's Institute in the country (1861). No wonder people are proud of living there...copies of the DVD and book are available - please email me for details.
Cross Your Heart (2008)
In 2008 I toured as the Musical Director, Song Writer/Composer and Musician for 'Cross Your Heart', by Janys Chambers. This play, commissioned by the Cheshire Rural Touring Network used the same techniques as 'The Maize Field' to portray the lives and concerns of young people living in the less glamourous parts of Cheshire. A group of young people were fully involved in developing all aspects of the production. The process was documented by film maker Lucia Cuevas, and is available on DVD.



On Common Ground (2007)